30 Ways to Participate on National Day for Truth & Reconciliation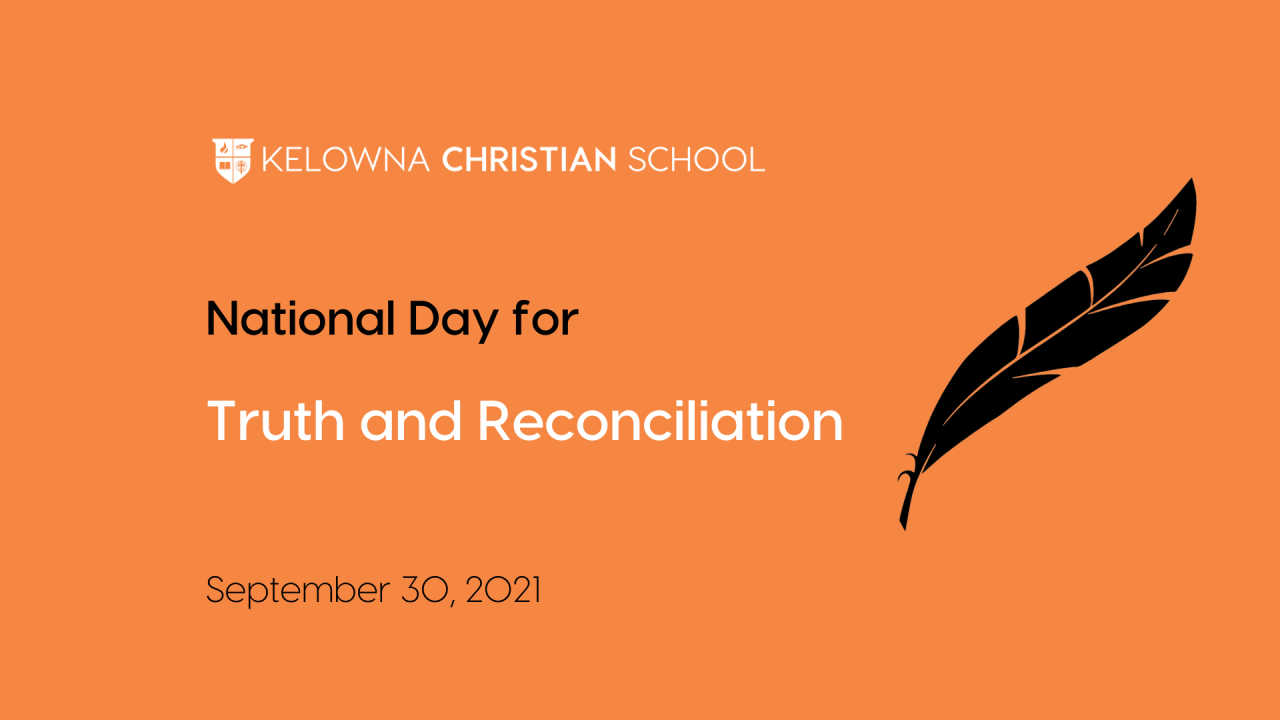 Kelowna Christian School wants to acknowledge the significance of the National Day for Truth and Reconciliation, on September 30th there will be no classes and the school will be closed. KCS wants to provide 30 resources and ideas on ways to engage your family in learning and growing towards reconciliation on Sept 30th.
We have compiled a list of 30 encouraged activities that can be done and want to welcome students and families to participate in an age-appropriate activity. Understand that reconciliation is not about "feeling guilty" or "blame", nor is it a single act. It is a complex process about knowledge, action, and justice.
The list is numbered approximately based on age appropriateness, with more complex activities near the bottom, please choose an activity that is best for your family.
Wear orange.
Read about the history of orange shirt day. https://www.orangeshirtday.org/phyllis-story.html
Download, print, and display an Every Child Matters heart.
Visit the Kelowna Museum, they are hosting a variety of events recognizing the day throughout the week
Tour WFN's Sncewips Heritage Museum.
Learn the land acknowledgment in our region.
Learn more about the land we occupy: native-land.ca
Visit indigenous locations around Kelowna: https://www.tourismkelowna.com/blog/post/get-to-know-the-okanagans-indigenous-people-by-visiting-these-important-locations/
Visit the website of the nearest First Nation(s) or Indigenous communities. Read their short introduction and history. https://www.syilx.org/
Purchase local Indigenous books, like works from author Monique Gray Smith.
Explore nature. Did you know that Indigenous peoples had sophisticated ways of caring for our landscapes to prevent massive fires, floods, and other natural disasters? Learn more about these methods.
Choose one plant or flower in your area and learn how Indigenous people use(d) it.
Go fishing and learn the Indigenous word for the fish you catch and local teaching about it.
Look up and learn about an Indigenous athlete. There are NHL players and Olympians among the mix!
Learn a greeting in a local Indigenous language. https://www.firstvoices.com/home
Eat at an Indigenous restaurant, café, or food truck.
Learn the difference between Indigenous, Aboriginal, First Nation, Métis, and Inuit.
Listen to Indigenous music. If you do not know any, listen to CBC's Reclaimed. Or start with an album by Tanya Tagaq or Leonard Sumner.
Find out who was the last Indigenous person to win the Polaris Prize.
Familiarize yourself with local indigenous artists.
Purchase an item from an Indigenous artist.
Actively seek out Indigenous heroes and role models. How about Dr. Nadine Caron, the first First Nations woman to become a surgeon? Or Mohawk athlete Waneek Horn-Miller? Or a historical figure, such as Thanadelthur?
When travelling, know whose land you are visiting while on vacation or travelling for work.
Support Indigenous media (newspapers, radio stations, social media sites, and TV stations).
Make a financial or in-kind contribution to the National Centre for Truth and Reconciliation.
Consider the words that you use. For example, consider the origin of the words tribe, pow wow, and chief, and what they traditionally meant.
Read the TRC. Start with the Calls to Action, then the Executive Summary. You can even listen online. Better yet, invite friends and family to read it with you.
Write to your municipal, provincial, and federal representatives and ask them how they are implementing the TRC Calls to Action.
Read the Indian Act and then read the 21 Things You May Not Know About the Indian Act by Bob Joseph.
Pray for reconciliation in Canada.
Stay Informed
When you subscribe to the blog, we will send you an e-mail when there are new updates on the site so you wouldn't miss them.